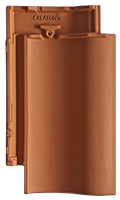 Extra light
"MELODIE"'s low unit weight of only 3.2 kg makes it especially user-friendly, enabling easier, faster roofing work.
Extra flexible
When it comes to gauge adjustment, more is better. And with an adjustment range of 35 mm, "MELODIE" offers optimum adaptability to batten spacing. That's a clear benefit that significantly speeds up roofing work and makes it easier. The flexible, graceful shape is a winner, especially on small, highly-detailed roof areas.
Extra secure
The distinctive "MELODIE" interlock enables optimum coverage, even at maximum spread. This assures unrivalled protection against rain intrusion, even in extreme weather conditions.
Ideal for renovation and historic buildings
"MELODIE" gives the historic concave interlocking pantile new character with features that are ideally suited to historic and traditional Nordic roofs. While "MELODIE"'s famous big brother, "SINFONIE", scores highly with its large format and fast installation, "MELODIE" brings a completely new note to the product range: robust top quality with great flexibility and very low weight.
To sum up: "MELODIE" is the compact all-rounder with top Nordic features.
Size:
approx. 440 x 255 mm
min. approx.
on av. approx.
max. approx.
Covering width:
208 mm
209 mm
210 mm
Covering length:
314 mm
331 mm
348 mm
max. approx.
on av. approx.
min. approx.
Tile requirement:
15,3 Pcs./m²
14,5 Pcs./m²
13,7 Pcs./m²
Weight
approx. 3,2 kg/pcs.
approx.  kg/m²
Small pack: 6 Piece
Pallet: 240 Piece